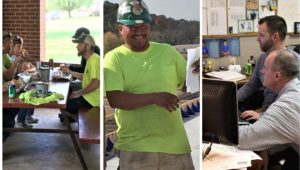 We care about people. Whether they are in our office, out on a job site, or in our community, we value those around us. That's why here at Stief Concrete, we have a company culture based on giving back. From employee mentor programs, to client interactions, to community service projects, we focus on building strong relationships, both inside our office and out. Take a minute to browse the featured photos and videos below for a behind the scenes look at who we are and what's important to us.
Annual Employee Team Building Event, 2021
A good time was had by all at Stumpy's Hatchet House, in Lancaster. We had lots of fun at our annual team building event and FINALLY got to celebrate Mike Martin's retirement, as a whole company. He received a few neat gifts (some funny ones too)—and even won the axe throwing tournament to top it off ! It was a great day!
Congratulations to the Employee of the Year!
We would like to kick off 2021 by honoring Woody Klopp, this year's Stief Concrete Employee of the Year! Woody has been with us for 51 years and we can't say enough great things about him. He is dedicated, hard working, and kind. He has been an example to so many throughout the years and continues to work with diligence and integrity each and every day. President Zac Martin said it best, "Woody is one of the best employees that Stief Concrete has ever had." Congrats and thank you, Woody! You deserve this honor.
Make-A-Wish Truck Convoy
When we entered our concrete pump and our curb machine truck in this year's local Make-A-Wish Convoy, we didn't realize just how impactful this event really is. It is an amazing thing to see–truck after truck, fire engines, buses–many with a "Wish Child" on board. It is more than just a truck parade. It is a community coming together to help grant the wishes of children who are struggling with critical illness; a community coming together to give hope. We are honored to have been a part of this event. And here's a special thanks to Nick Heister and Rich Grant, for driving our trucks! You guys are awesome.